Recruitment for good studies
Achieve your study goals with the SaniQ platform , the innovative solution for patient:ing recruitment.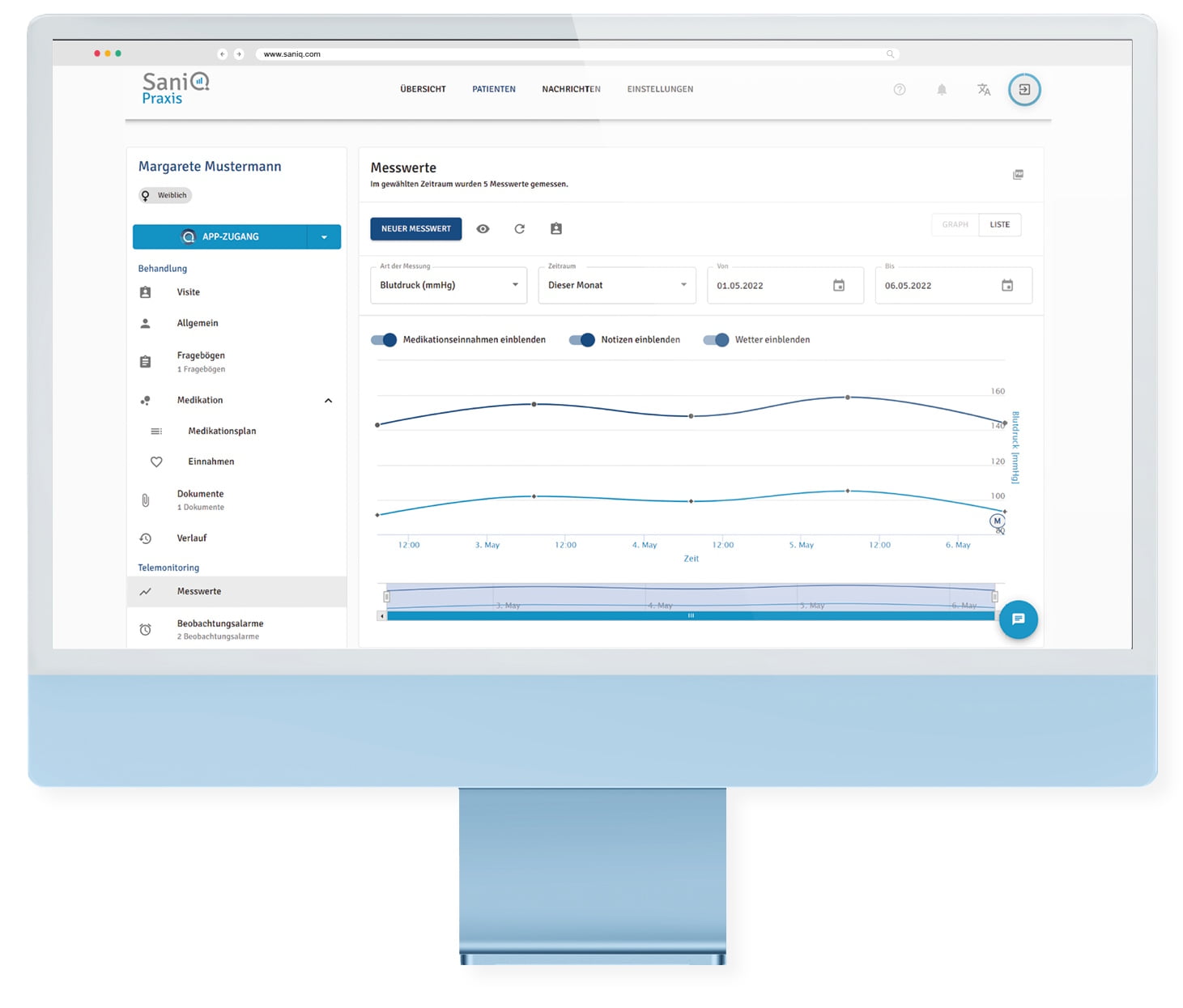 Pharmaceutical Companies & Clinical Research Officers (CRO) Receive valuable support
SaniQ supports All phases with data
Recruit the right patients for your studies quickly and easily with SaniQ Praxis. Our web-based platform is linked to CompuGroup Medical physician information systems (others on request) and saves you time and costs in the selection process. The platform automatically identifies suitable patients for your study grid and informs the HCP.
Collect more relevant data than usual through telemonitoring with the SaniQ platform. App users record their vital signs at home with sensors. Doctors have access to their patients' health data in real time and can intervene via chat or video consultation in the event of deviations from threshold values.
In addition, use the possibility to send questionnaires to the SaniQ app of the Patient:in, which we can integrate individually for you. These can be anamnesis questionnaires or study-specific questionnaires.
SaniQ Praxis enables more detailed studies through high data density and improves the process.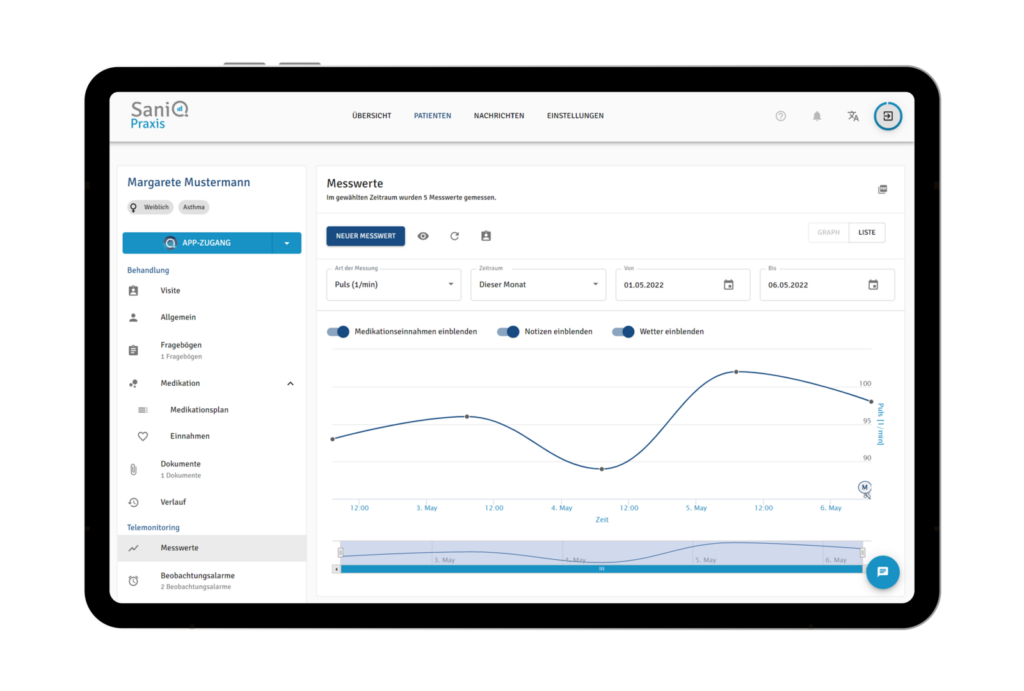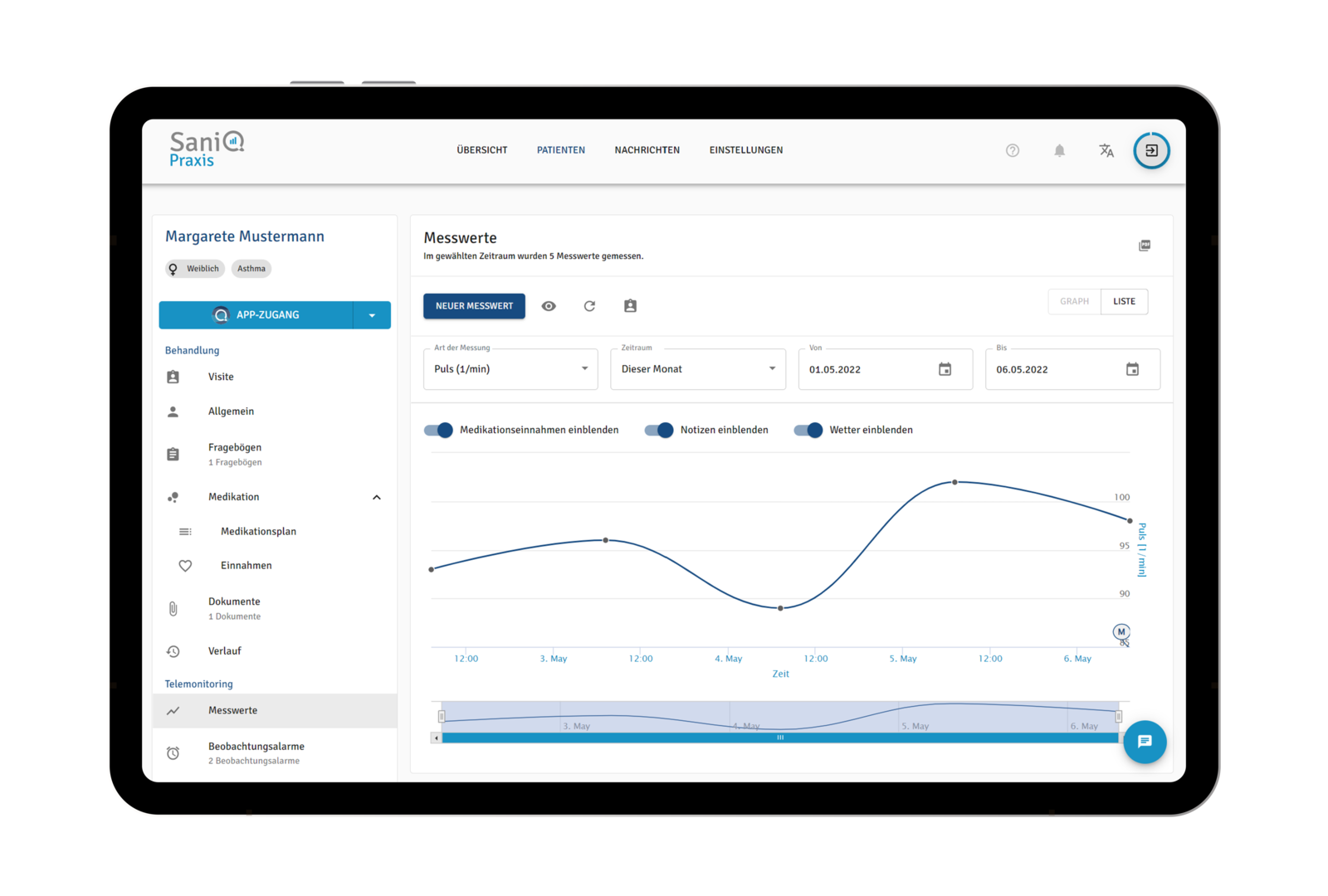 SaniQ is more than a web-based platform for intersectoral care. It is an innovative solution for better care of chronically ill patients and a standard in numerous pharmaceutical studies and health services research.
With SaniQ, study physicians can view the digitally recorded vital signs, PREMs and PROMs of volunteers in real time and gain valuable insights from them.
In addition, CROs have continuous insight into the current study status.
SaniQ is the future of intersectoral research. Learn more about SaniQ and how it can help you plan and conduct your studies more precisely and with better outcomes.
Together we will find your solution!
Are you interested in study recruitment via SaniQ or would you like to learn more about the advantages of the platform? 
We are here to help and advise you in person, by phone or email. Contact us today and discover how SaniQ can help you!